How to monitor your home from anywhere, anytime
Keep an eye on what matters to you most with mydlink™ Cloud Services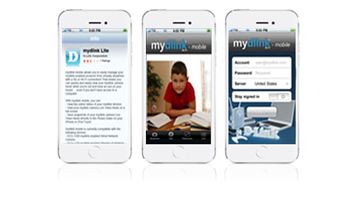 Peace of mind in an instant
If you want to make sure that the kids are OK when they come home from school, check that your dog isn't tearing the house up, or ensure your home is safe and sound while you're on holiday, our simple guide to home monitoring and security is a great place to start. We'll help you determine everything you need to view what's happening at home… wherever you are.
Why home monitoring?
Our range of home monitoring solutions allow you to monitor and record your home via any Internet-connected computer, iPad®, iPhone®, or Android™ device, anytime and anywhere
Our entry level cameras enable you to check on your home with live video and audio streaming – perfect for keeping an eye on the kids when they get home from school. While our Enhanced Day/Night Cloud Camera (DCS-942L) allows you to record video footage of your home for up to 7 days.
Adding our mydlink™ Network Video Recorder (DNR-322L) means you can record multiple cameras for up to 6 weeks* – ideal for keeping an eye on your home when you are away on a longer break.
Getting started
For a simple, yet highly effective home monitoring system, you'll need these components:
An Internet connection
A router
One or more network cameras
A PC, iPhone, Android Phone
iPad or Android tablet
A mydlink™ account
If you want to set up comprehensive home security you can add a mydlink™ Network Video Recorder (DNR-322L).
Your Internet connection and router
A fast and reliable Internet connection ensures your mydlink™ camera is always connected and shows you real-time footage – so having the right router is essential. We've launched a range of routers which have been specifically designed for the demands of video. Both routers give the very best speed and coverage around your home.
Viewing your camera with mydlink™ Cloud Services
The mydlink™ Cloud Services portal allows you to access your cameras from any computer, iPad, iPhone, Android Phone or Android tablet. mydlink™ Cloud Services are easy to install, simply insert the installation CD in the box, into your PC/notebook. Once the camera is set up, you'll be prompted to create your mydlink™ Cloud Services account. mydlink™ Cloud Services will detect compatible cameras set up in your home, garage or any other indoor location, and quickly configure them onto a network, which means you can start viewing straight away.
Each mydlink™ Cloud Services-enabled camera can also be viewed via your personal account on www.mydlink.com, giving you the complete freedom of remote monitoring – wherever you are in the world.
Choosing the right product for you
We have a wide range of products in our mydlink™ Cloud Services family that are suitable for monitoring or recording during the day and night. So whatever your situation, we can help you find the right combination of products that will really work for you.
Anxious new parents?
When you're new to the parenting world, you have a tendency to want to check on your bundle of joy every 5 minutes. However, standing over your child can disturb their sleep. So the perfect solution to this is a camera that gives you the flexibility of being able to view the nursery wherever you are in the house.
The Day/Night Cloud Camera (DCS-932L)
• Easy to set up – our mydlink service allows instant 24/7 access to video footage from your iPad, iPhone or Android device so you can check up on your child from any room in the house.
• With built-in infrared LEDs, this camera has night vision so you can see your child sleeping soundly in low light – making it a perfect choice for day and night.
Find out more
For more information about mydlink™ Cloud Services and the products in the family, visit www.mydlink.com
Worried about your home's security?
Over the last year some of your neighbours' flats have been broken into and some expensive belongings were stolen. It's not surprising that you feel anxious about leaving your home unattended. You'd like something that allows you to keep a constant eye on your property and record any footage should you need to.
The Enhanced Day/Night Cloud Camera (DCS-942L)
Including a free 16GB microSD card, you'll benefit from 7 days continuous recording* – perfect for those times that you have to work away.
Featuring a Passive Infrared (PIR) motion-detection sensor, you can trigger recordings and send yourself alert
mydlink™ Network Video Recorder (DNR-322L)
If you are going away for a longer period of time, the DNR-322L allows you to simultaneously monitor and record 6 weeks of video footage from up to 9 cameras**.
You can access live video from your mydlink™account, allowing you to keep an eye on your flat while you're away.
The Network Video Recorder has two Hard Drives*** which mirro each other, so that if one fails you have all your footage backed up on the other.
Find out more
Fore information about mydlink™ Cloud Services and the products in the family, visit www.mydlink.com
* Based on 12 hours motion detection per day.
** Based on a mydlink™ Network Video Recorder (DNR-322L) equipped with 2x 3TB hard drives recording from a set of four Enhanced Day/Night Cloud Cameras (DCS-942L).
*** Hard Drives not included. mydlink™ Network Video Recorder can support a maximum of 6TB of storage.