You are accessing a product that may be different in your country. Check out the available models
here
.
Tri-Band Whole Home WI-FI Mesh System
COVR-2202 .
Tri-Band Whole Home WI-FI Mesh System
Whole Home Coverage
• Smart Steering automatically directs your devices to the optimal wireless band
• Two Covr Points for more coverage
• Smart Roaming seamlessly connects you to the strongest signal as you move from room to room
• Tri-band AC2200 Wi-Fi with dedicated 5 GHz backhaul
• Wi-Fi MIMO technology creates a powerful, fast, and highly efficient Wi-Fi network
• Two Gigabit Ethernet LAN ports per unit to give you high-speed wired connectivity
• Configure your network using the free D-Link Wi-Fi mobile app or the easy-to-use web-based interface
• Intuitive setup wizard to guide you through the configuration process
---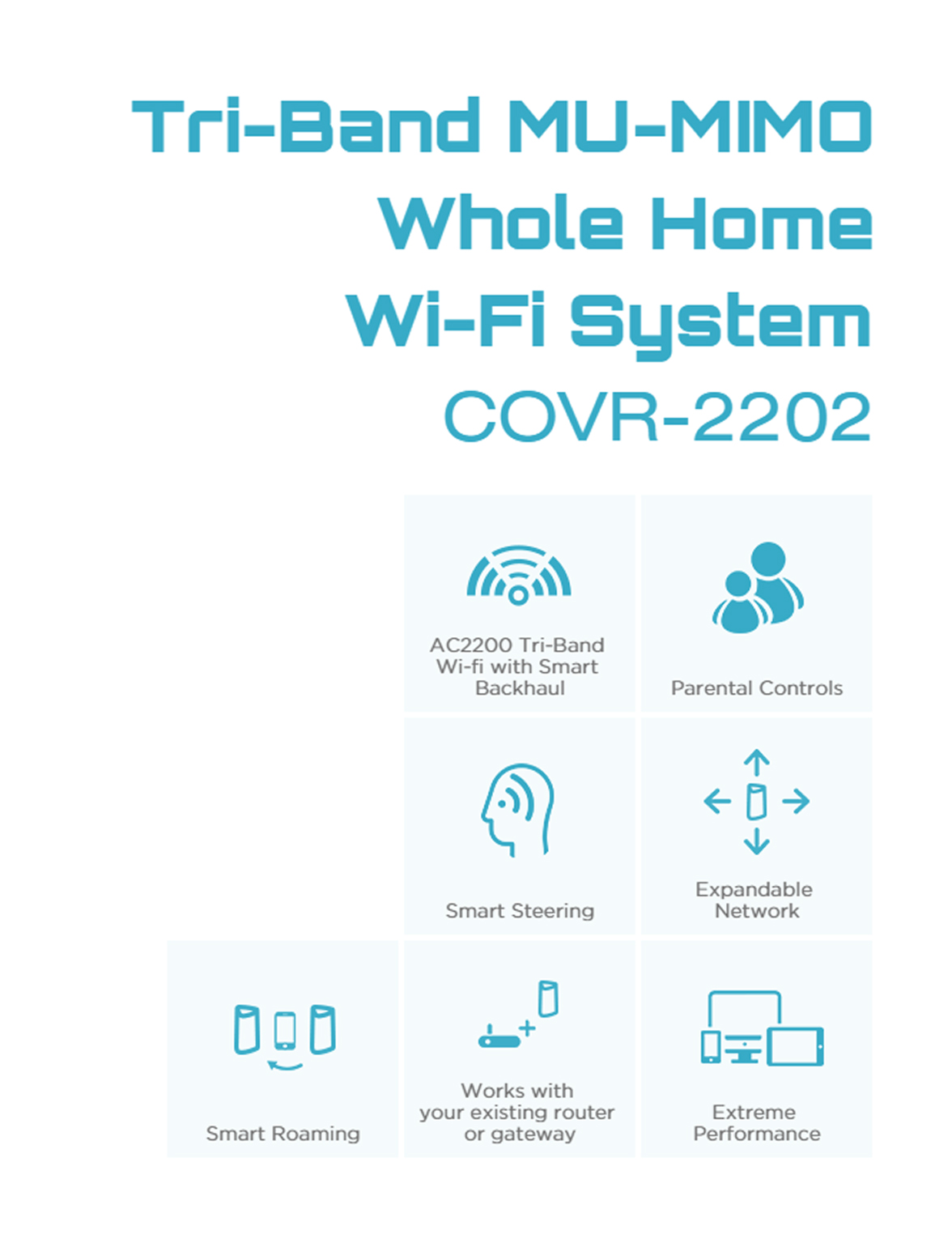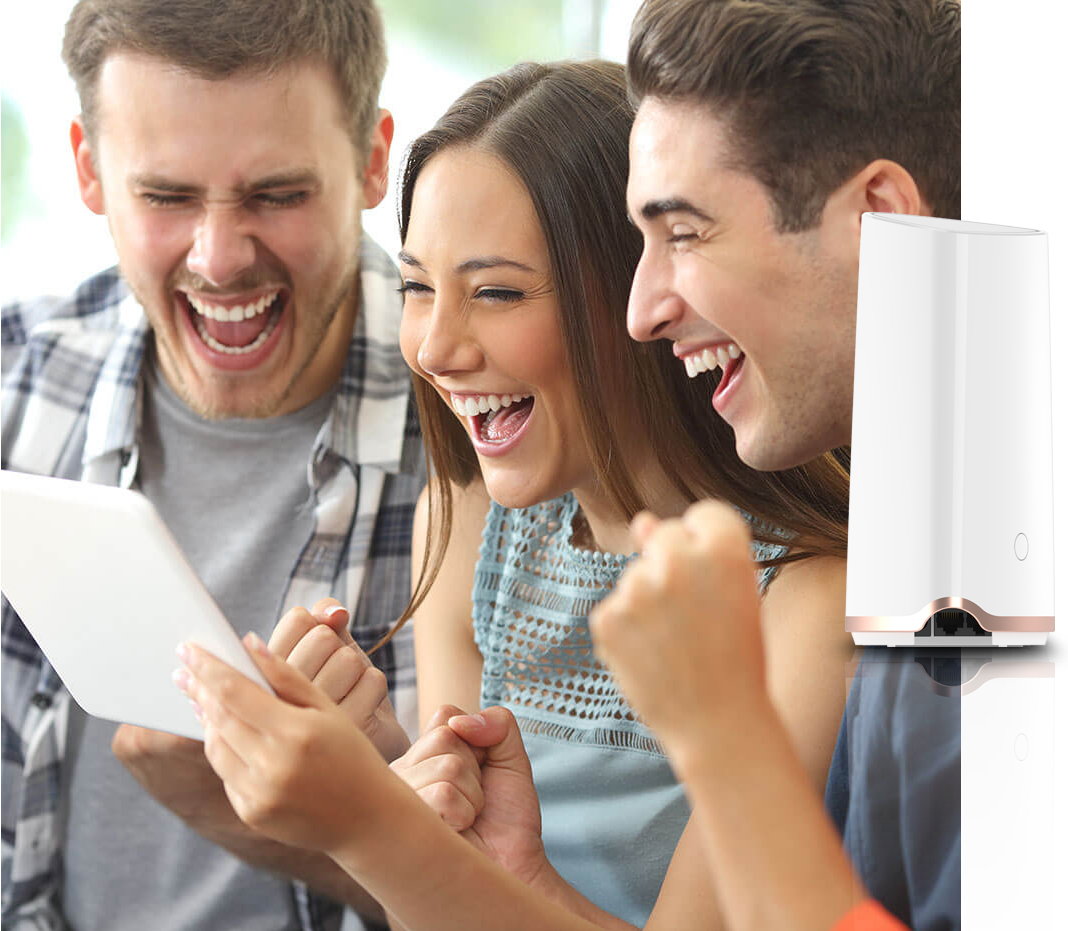 MORE COVERAGE
COVR-2202's two units come equipped with high-poweramplifiers
covering up to 6,000 sq. ft with ultra high-speed Wi-Fi.
And with six powerful antennas and MU-MIMO technology,
you can finally bury those annoying Wi-Fi dead zones. Permanently.

ONE SEAMLESS NETWORK
With Covr, there's just one wireless network name (SSID) for your entire home,
no matter where you are. You'll never have to remember usernames and
passwords for different networks in your home ever again.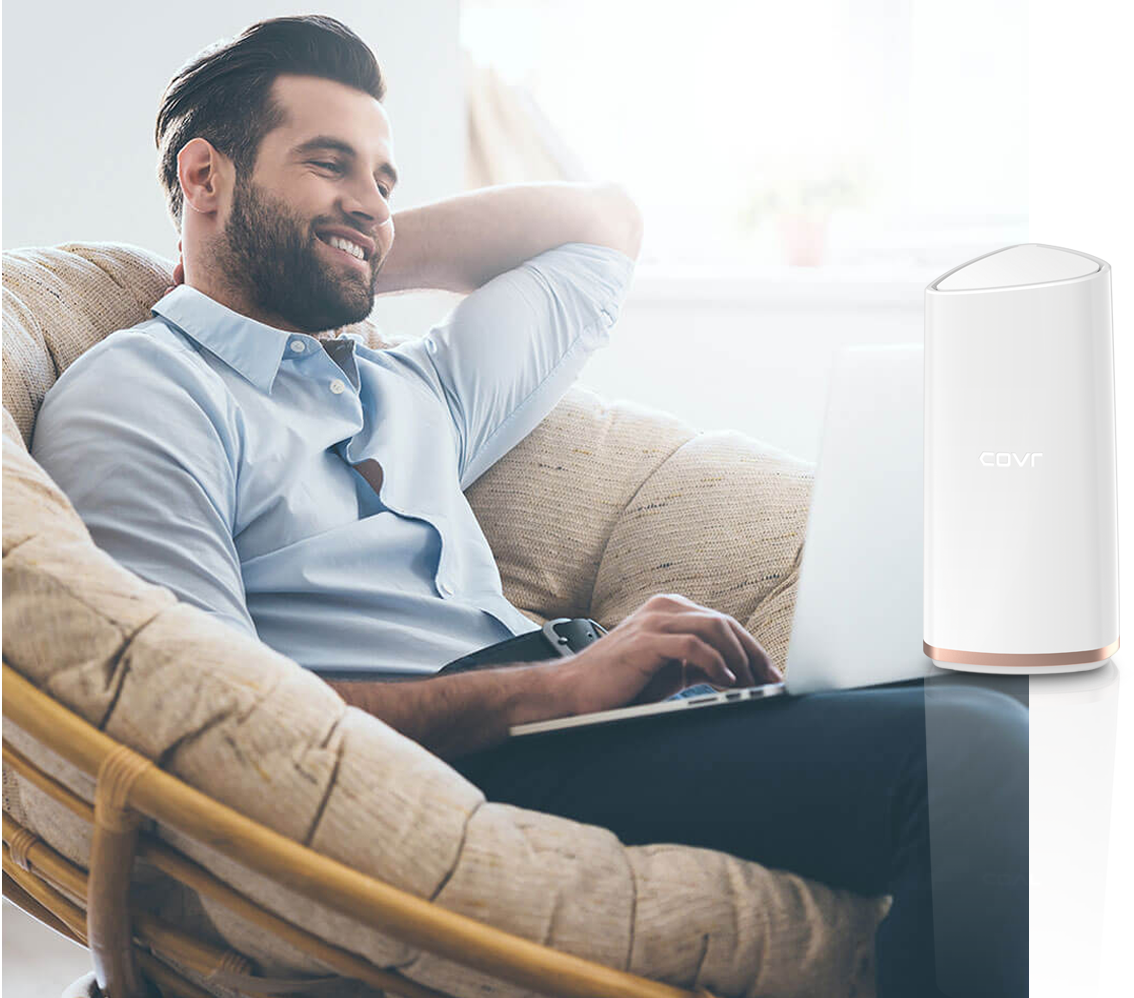 HIGH PERFORMANCE
With ultra high-speed AC2200 Tri-Band Wi-Fi and 11ac
Wave 2 with MU-MIMO, you get more power for faster downloads,
Lag-Free 4K streaming, and truly seamless networking.
Perfect for bandwidth-hungry homes.
DEFEND YOUR NETWORK
When it comes to safeguarding your family's online privacy and smart home connections from cyber-snoopers, you can never be too careful.
That's why we built in powerful McAfee protection into COVR-2202, so you can defend yourself at the network level way before threats come close.
With a world-renowned Global Threat Intelligence that updates itself automatically with cutting-edge cloud-based machine learning, McAfee protection keeps the growing onslaught of sophisticated cyberthreats out, 24/7.
DFS-Enabled For The Clearest 5GHz Wi-Fi Ever
Unlike most other routers, COVR-2202 AC2200 Tri Band Whole Home Mesh Wi-Fi System lets you unlock previously restricted DFS channels on the 5 GHz spectrum. With access to additional frequencies which have next-to no congestion, you get faster, less congested Wi-Fi – even if you're completely surrounded by networks and devices around your home.

Works with the Google Assistant and Alexa
Say hello to a whole new mesh Wi-Fi experience using voice commands with your Google Assistant and Alexa. Turn on and off your guest Wi-Fi, check guest Wi-Fi credentials, and reboot your Wi-Fi system.
COVR-2202 AC2200 Tri Band Whole Home Mesh Wi-Fi System lets you do it all, hands-free.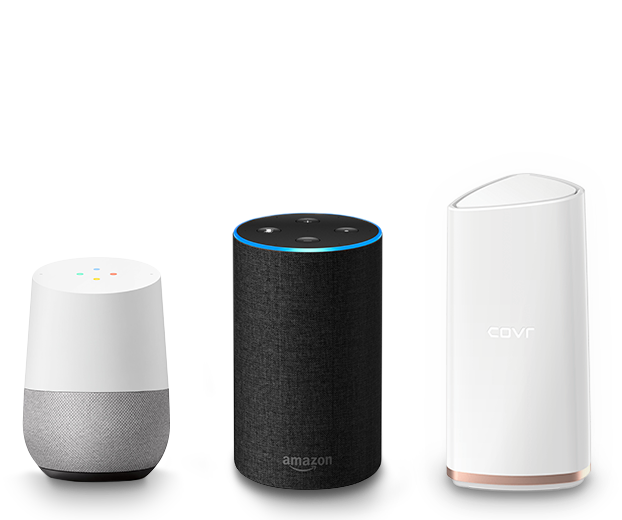 DROPPED CONNECTIONS?
Pick up the slack with Tri-Band Wi-Fi's dedicated 5GHz backhaul band. It frees up Wi-Fi capacity so you can enjoy more reliable connections even with multiple devices connected.

Dual-band systems use the same single 5GHz band for communication with both your devices and for backhaul, meaning network speeds can be reduced by up to 50%.

The Covr Tri Band Whole Home Wi-Fi System has a third separate band just for backhaul, leaving the other two bands unrestricted for connecting to your devices.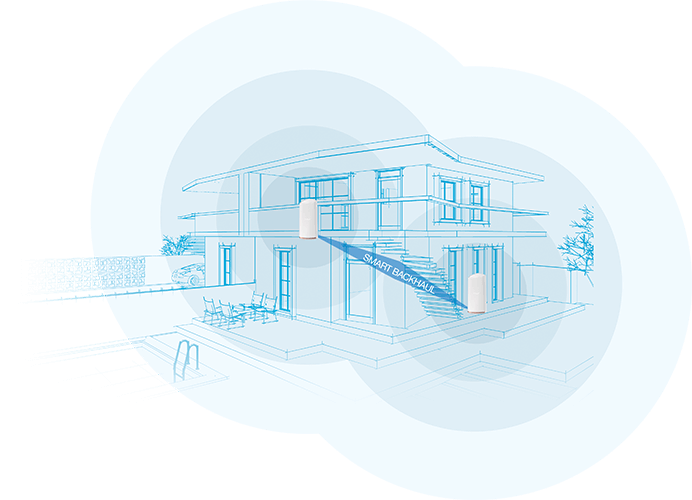 MESH WI-FI. A WHOLE LOT BETTER.
COVR-2202's smart backhaul feature automatically optimizes the signal between the Covr Points, no matter where you place them around your home. Your whole home network performs better overall, with less headache.
It's whole home Wi-Fi. A whole lot better.
GOODBYE WI-FI DISRUPTION
Hello One Seamless Network. With Smart Roaming, you can now move freely from room to room, and stay constantly connected to the strongest signal. No more disconnecting. No more reconnecting.
Just pure Wi-Fi bliss.
EASE WI-FI BUFFERING
Wi-Fi slowing to a crawl? Smart Steering clears Wi-Fi congestion
by automatically directing your devices to the optimal wireless band.
Staying on the Wi-Fi superhighway has never been easier.
GROW YOUR WI-FI. PAINLESSLY.
Need more coverage? COVR-2202 grows with you.
Just add extra Covr Points to expand your tri-band
mesh Wi-Fi network wherever you need internet.
Seamless Wi-Fi. Simply Scalable.