Super-fast Speed. Simple Setup. And Total Wireless Compatibility.
The DWA-182 Wireless AC1300 Dual Band MU-MIMO USB Adapter delivers powerful wireless AC technology to your desktop or notebook computer. Simply plug the adapter into an available USB port and connect to a wireless network to access a secure, high-speed Internet connection over the 2.4 GHz (400 Mbps) or 5 GHz (up to 867 Mbps) bands.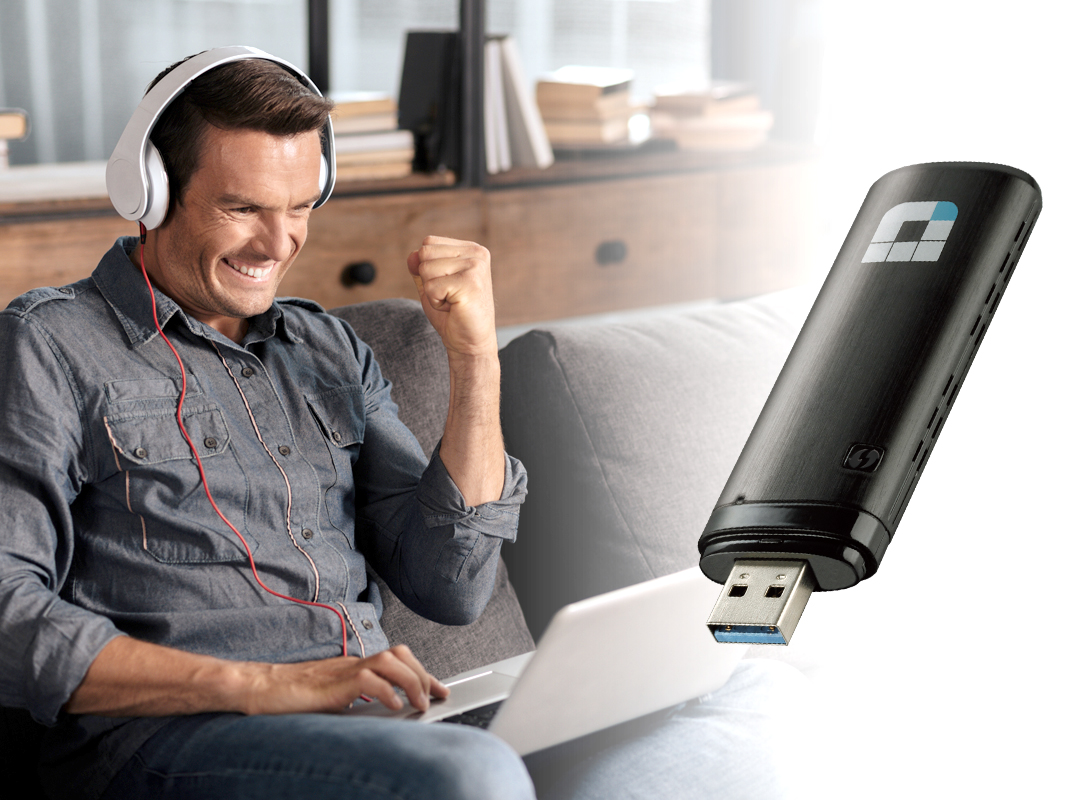 Upgrade to Wireless AC Performance
By upgrading your laptop and desktop computers to AC, you can immediately enjoy the benefits of faster wireless speeds and better connectivity – all with less wireless interference so you can enjoy doing what you love most. Delivering Wi-Fi dual band speeds to your laptop or desktop computer, the DWA-182 is the perfect solution for those looking to enjoy online gaming, smooth HD video streaming, fast file transfers and lag-free video chatting.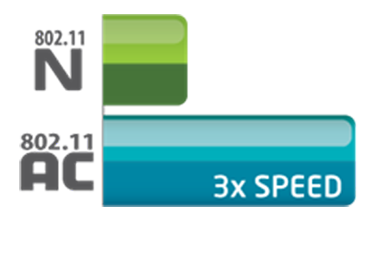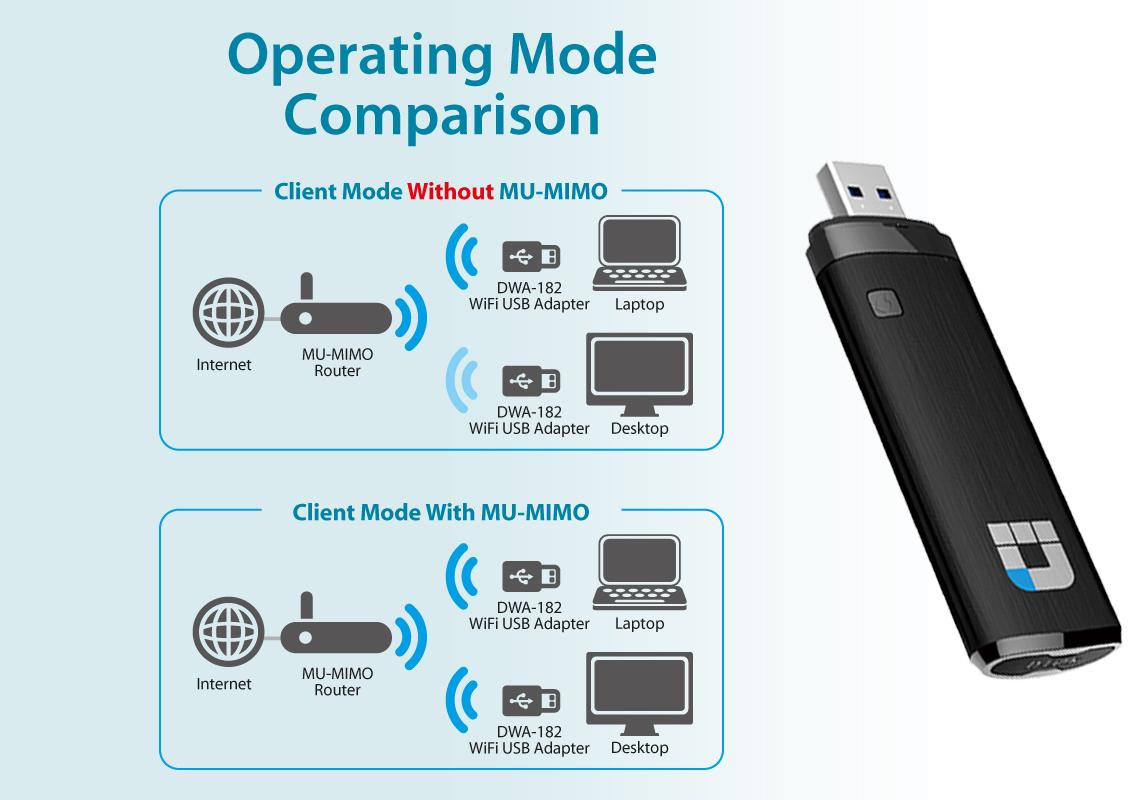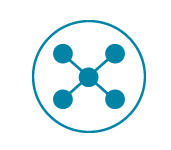 Do More With MU-MIMO
With the latest wireless AC Technology MU-MIMO (Multiple User – Multiple In & Multiple Out), It allows for the user to be able to stream simultaneously on multiple devices

High-performance wireless networking with USB 3.0 SuperSpeed* throughput on your desktop or laptop computer. Backward compatible with USB 2.0.
*Supported on the DWA-182 version C1
While the Wireless AC1300 Dual Band USB Adapter delivers blazing fast AC speed to your laptop or desktop computer, it's also backward compatible with older Wi-Fi routers and devices.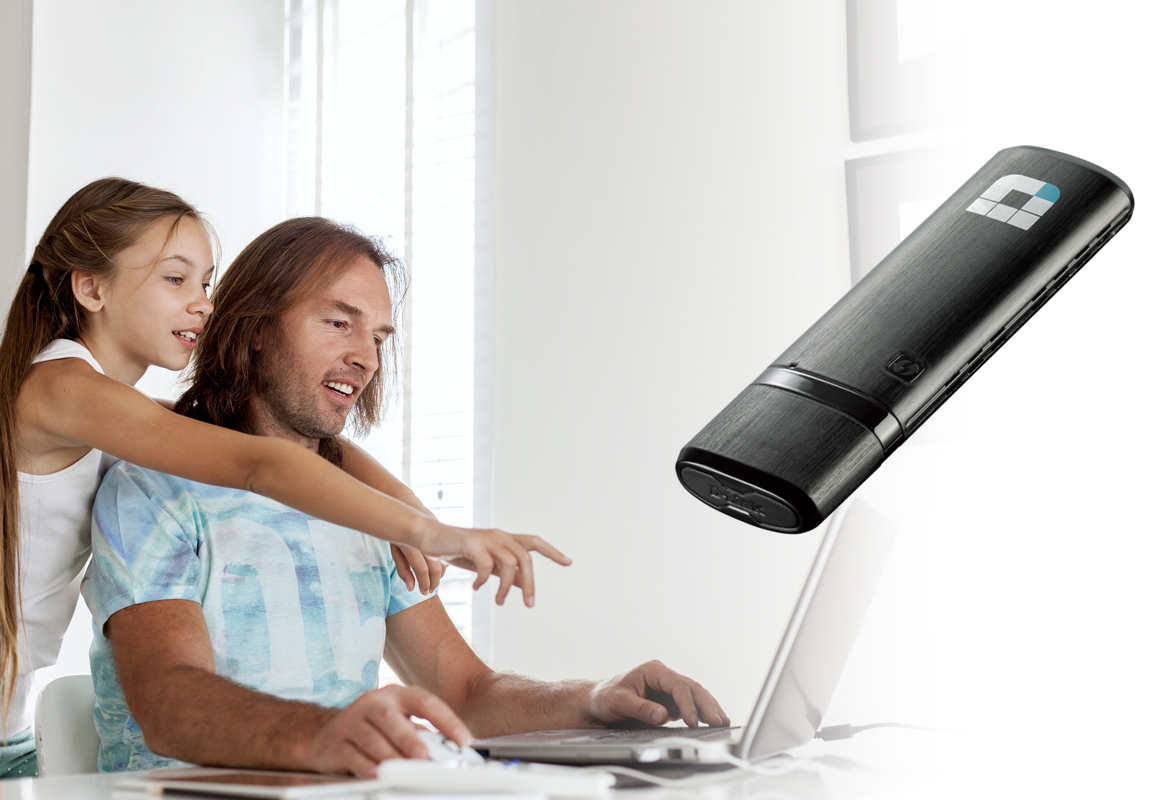 Maximize your AC Performance
While your new Wireless AC adapter delivers the latest and the greatest in wireless performance to your laptop and desktop computers, you can further optimize your home network's performance by upgrading your current router to one of D-Link's Wi-Fi AC Cloud routers. By upgrading to an 11AC wireless router you can avoid speed bottle-necks and maximize your laptop and desktop wireless performance.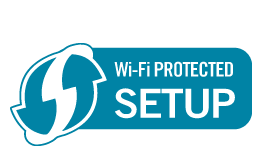 Quickly and easily establish a fast, secure home network that will have you browsing, streaming, and watching in minutes. It's as easy as push and connect!